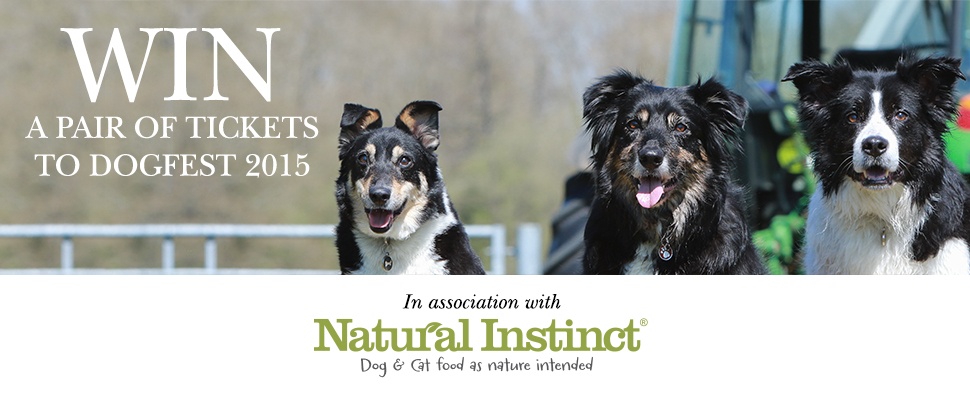 PetsPyjamas has teamed up with Natural Instinct, the leading manufacturers of raw pet food, to give you the chance to spend a fun-filled day with your four-legged friend at DogFest!
Hosted by Channel 4's Supervet Noel Fitzpatrick and sponsored by Natural Instinct – DogFest is a pet-tastic day jam-packed with amazing displays, doggy activities and pet advice from the experts. You can even treat your pooch to a grooming session or some fabulous gifts in the shopping area.
After a successful launch in 2014, DogFest will be taking place on Sunday 21st June at Loseley Park in Surrey.
We have 12 pairs of tickets to give away - and for your chance to win, all you need to do is enter your details below:
Proud headline sponsors for this year's DogFest – Natural Instinct are passionate about pets and firm followers of the motto 'you are what you eat'.
Natural Instinct sincerely believe raw is best as it echoes the food hunted, scavenged and eaten by the ancestors of today's dogs and cats. As the best natural option, raw is free from artificial additives, colours, preservatives and fillers.
Creating the right dog and cat food is a team effort. Natural Instinct work closely with a highly skilled Product Development Team including pet nutritionists and their veterinary surgeon and homeopath, Sue Armstrong.
Within the product ranges, there is a wide choice to suit all tastes and requirements using only the best human grade, DEFRA approved raw meat and bone, vegetables and fruit. They pride themselves on outstanding levels of customer service and on delivering the very best in quality. A keen supporter of British produce, Natural Instinct only use 100% British meat, poultry and fish.
The company's delicious range of wholesome meals provide a no stress, no mess way to feed your pet raw.
Terms and Conditions Apply:
- Prize includes a pair of tickets to DogFest.
- These tickets are not redeemable for cash.
- The closing date for tickets to DogFest at Losely Park on Sunday 21st June is Thursday 18th June 2015.
- All email addresses entered (including those for referral) will be added to our mailing database. You can unsubscribe from us at any point via the link at the bottom of emails received or by contacting support@petspyjamas.com