Top Dog-friendly Places to Eat
After a busy day exploring the Cotswolds, you'll want to find a place to eat where your four-legged friend will be as welcome as you are. Our selection of dog-friendly gastropubs not only offer delicious food and drink, but also bowls of water, doggie treats, and some even have a resident dog to play with!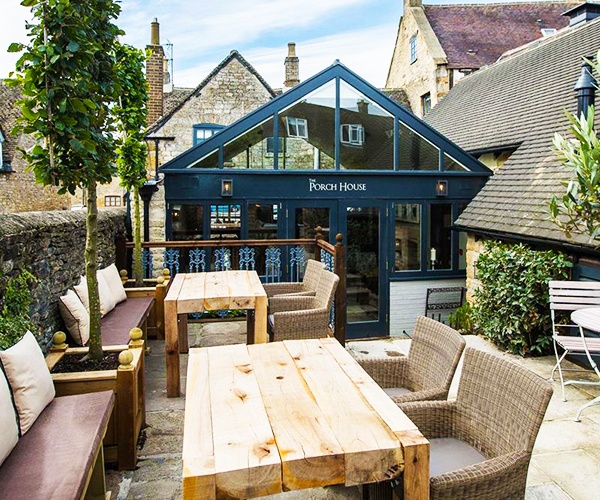 The Porch House
Nestled in the heart of Stow-on-the-Wold, The Porch House is a wonderful place to recharge and relax with your pet by your side. Billed as the oldest inn in England with beginnings dating back to 947AD, you'd never guess thanks to its stylish, 21st century interior. All the dishes are pub classics but with a Porch House pizzazz – we recommend their signature burgers. Often filled with other doggies passing through, your furry friend will be able to rub noses with locals as well as other canine travellers in the bar and conservatory areas. Ask at the bar for the Stow Walks pamphlet, it details a number of fabulous dog-friendly walks in the surrounding countryside!
STAY AT: Dryhill Cotswold Farmhouse and Cotswold House Hotel & Spa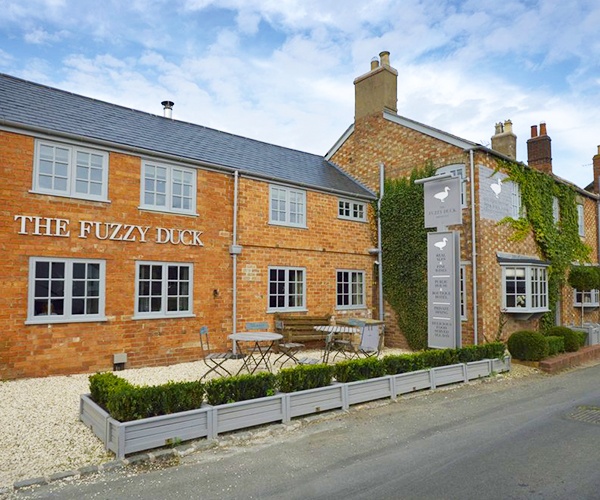 The Fuzzy Duck
Originally an 18th century coaching inn, The Fuzzy Duck is the gem of Armscote and a pub where both you and your furry friend can dine in comfort and luxury. Dogs can dine with you in the bar area or the garden, plus there will be complimentary water as well as doggie biscuits and pig's ears to keep your canine happy. A great rest stop for families too, children and dogs can play in the secure pub garden whilst you enjoy a cold beverage or two. Fancy a brisk stroll through the country after lunch? No problem – the pub has its own Hunter wellington boot loan service, just grab a pair if its muddy!
STAY AT: Charingworth Manor and Station Cottage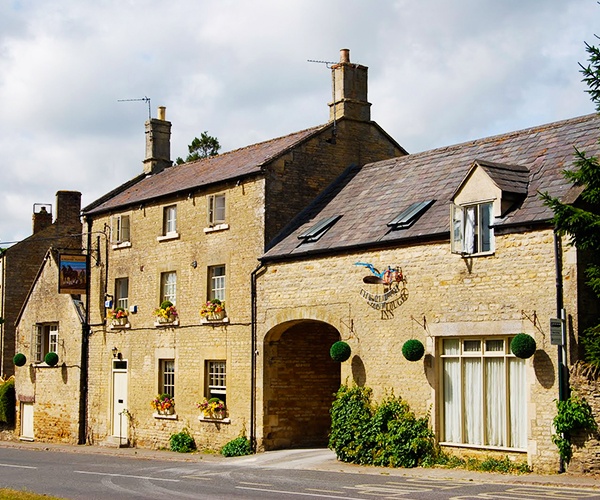 The Kingham Plough
This smart dog-friendly country pub is a hit among the locals and a must-visit for those passing through. Rub noses with resident dog Ooti who is always up for a game of hunting squirrels! Your four-legged friend can dine with you in the bar area where there will be plenty of water and treats to keep them happy. Despite its somewhat modest exterior, the dishes created at The Kingham Plough are practically ambrosial! However, with the kitchen headed up by Emily Watkins, a former junior sous chef at Heston Blumenthal's Fat Duck, this comes as no surprise. After you've had your fill of delicious food, ask a member of staff about the walk to Daylesford the 'back way' – trust us.
STAY AT: Noel Arms Hotel and Dormy House Hotel & Spa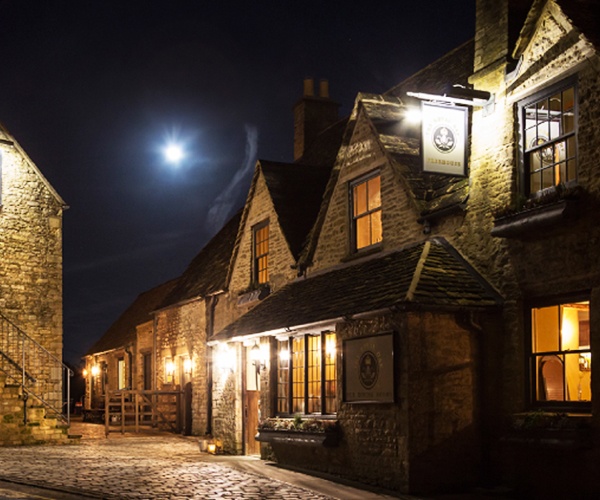 The Royal Oak
This refurbished 17th century inn is a real community venue and is always abuzz with local folk as well as city visitors. Super dog-friendly, your furry friend is welcome to sit with you whilst you drink and dine in the bar area. There is also secure garden and the staff will be happy to offer you advice on the top dog walks in the area – and maybe a sneaky biscuit or two! The house favourite is the Real Ale Battered Fish of the Day and will leave you – and your canine – smacking your lips. Even if you're not a meat eater, their vegan menu is packed full of fabulous choices.
STAY AT: The Hare & Hounds Hotel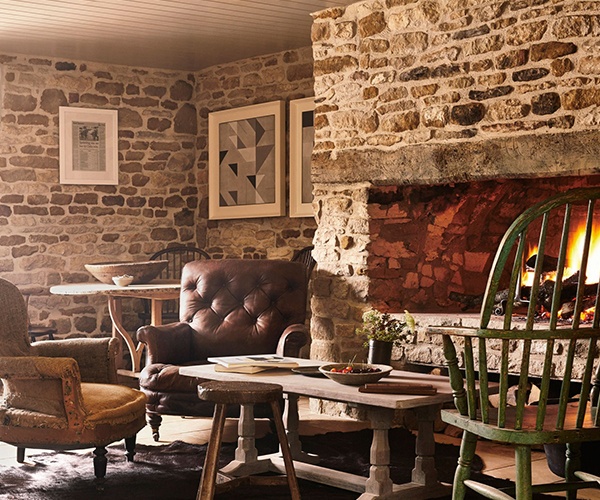 The Wild Rabbit
Formerly the Tollgate Inn, Lady Bamford, founder of Daylesford Organic Farmshops, reinvented this traditional English pub into a stylish dog-friendly place to eat, drink and sleep. Furry friends are welcome to dine with you in the bar area, and can stretch their legs in both the front and rear gardens. Word on the street is there's also a jar of dog biscuits on the bar... With its connection to Lady Bamford, you can expect all The Wild Rabbit's dishes to be made from nothing but locally sourced, organic food. There's even a delicious vegetable starter called Daylesford Market Garden! Set right in the heart of the Cotswolds, the pretty village of Kingham makes a great after-lunch stroll with your pet.
STAY AT: The Swan Hotel and The Hay Loft at Great Tew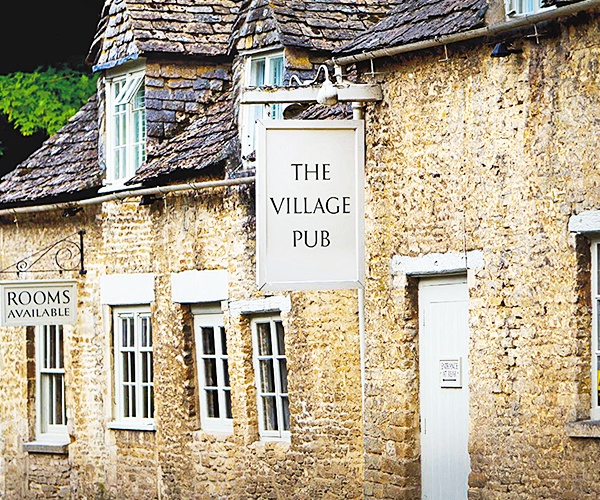 The Village Pub
A favourite haunt of the locals, The Village Pub is everything you'd expect of a dog-friendly British pub, but with added style. Four-legged friends will receive a warm welcome and can join you in the bar area for drinks and food. There is a wonderful sheltered back courtyard with outdoor heaters – pawfect for those cooler summer evenings. Combining the best of English pub food with contemporary touches, the menu changes with the seasons and often depends on the fresh produce they receive that day. Either way, you won't be disappointed! From warm ginger cake to shortbread cobbler, those with a sweet tooth will love the desserts on offer.
STAY AT: The Amberley Inn and Lords of the Manor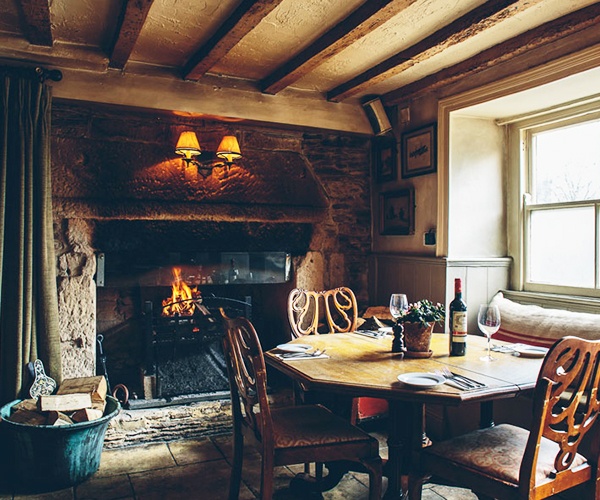 The Potting Shed Pub
Situated in the beautiful Cotswold triangle of Tetbury, Malmesbury and Cirencester, The Potting Shed is a pawfect starting point or end stop for canine explorers and their owners. Exceptionally dog-friendly, four-legged friends can eat with you anywhere in the pub. However, with yummy dog biscuits at the bar, your pet will probably want to stay close by! The menu changes monthly but you can always be sure of fresh produce; the pub has two acres of gardens given over to a mixture of trees, lawns and The Potting Shed's very own vegetable patch. During the summer, enjoy a lazy day relaxing under the weeping willow and apple trees. Very popular among the locals, we recommend booking in advance to secure a prime spot for you and your canine!
STAY AT: Berkeley House and The Old Surgery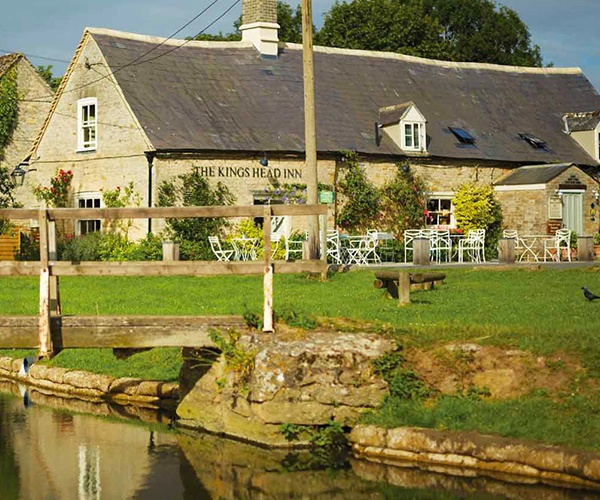 The King's Head Inn
A classic English country pub, The Kings Head Inn dates back to the 16th century and was originally a cider house. Still exuding character from the bygone era, this is a great spot for a drink or hearty meal with your hound in tow. We recommend trying their chargrilled sirloin steak which is Aberdeen Angus, sourced locally from the family farm! Pets are welcome to join you whilst you dine and drink in the bar, plus the outside area is great for some playtime with your pooch. Stand or seat yourself by the fireplace bar during the chillier weather for a truly cosy spot. Come summertime, head out onto the picturesque village green.
STAY AT: The Cart Shed at Great Tew and The Feathers Hotel