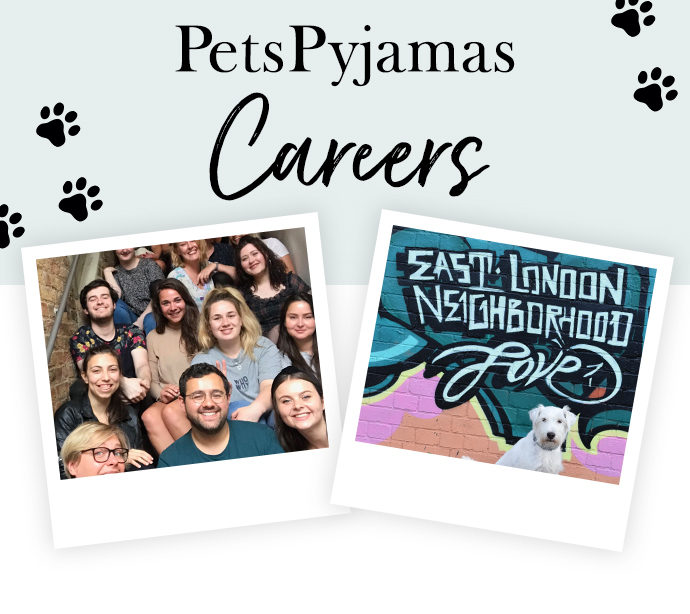 Are you tenacious, independent, self-starting, ambitious, driven and energetic? We could have a future together!
PetsPyjamas are the leaders of dog-friendly travel throughout the UK & Europe. Our expert concierge team provide a unique and personalised experience to our ever growing avid dog-loving travellers. Launched in 2012 by the founders of toptable.com, we are playing a key role in the exploding trend around pets as true family members and are focused on making the Travel Industry truly Pet Welcoming.
PetsPyjamas HQ is a converted warehouse in the heart of Old Street, housing a vibrant and entrepreneurial team dedicated to driving the brand forward. With a growing workforce of 35+ we are at a pivotal break through moment for the business, with huge expansion and growth plans for 2020 and beyond.
Being part of the PetsPyjamas pack offers the opportunity for enriched personal development, rapid career progression and all whilst working in exciting, engaged and energetic environment in our Shoreditch based dog-friendly offices.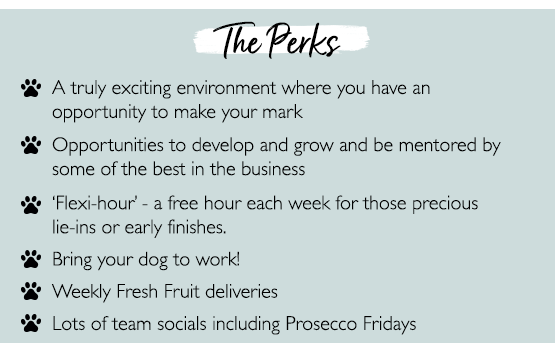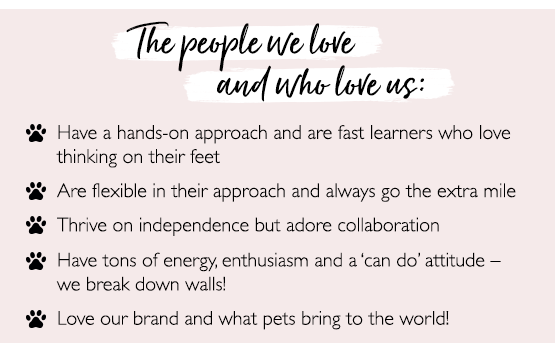 If you are the paw-fect fit for our team then send across your CV alongside 100 - 300 words on why you'd be the best candidate for the role to hiring@petspyjamas.com
Please note that due to the high level of interest we receive we are unable to individually reply to all applicants.
---

Dog-Loving Marketing Assistant
Hours: Full-time
Location: Warehouse offices in Shoreditch, London, EC2
Reporting to: Marketing Manager
Salary: £22-24k
Due to rapid growth we are on the lookout for a talented, proactive and forward thinking Marketing Assistant to join the Marketing Team and help us ensure all marketing activities are supported flawlessly and brand image is maintained.This is a great opportunity for someone who is keen to work in a fast-paced company and progress their career alongside a fast growing company.
You will be supporting a team of 4 working closely with the Marketing Executive in particular using your excellent copywriting skills to ensure that the brands image, reputation and tone of voice is maintained across all areas of the business.
Responsibilities:
Providing help and support in all elements of marketing working closely with the other members of the team

General copywriting for; the website, coming up with snappy headlines, intro's customer emails and writing the occasional feature (copywriting must be a real strength!)

Assist with preparation and coordination of marketing events

Responsible for organising all marketing material for events, offline campaigns and other projects (e.g. scratchcards, leaflets Pet Edit etc.)

'Shadow' and learn about PetsPyjamas social media strategy and assist with monitoring all social channels

Help build and support our community - all channels- through optimising areas such as our blog

Develop an understanding of content strategy through a variety of channels

Learn about B2B as well as B2C marketing and building relations with other businesses in the pet and travel industries

Maintain and update the press page with our most recent press coverage

Meeting and greeting visitors and taking care of the general office including things like the press wall
Experience and skills required:
A minimum of two years' experience as a Marketing Assistant with the same or similar responsibilities

Copywriting experience essential and perfect command of English both written and spoken a must

Preferably with a degree in a relevant field, i.e. Marketing or English

Strong understanding of the various marketing channels and ways to boost brand awareness

High energy with a creative mindset

Self-starter who is eager to learn and progress

Well-organised with a meticulous (almost obsessive!) attention to detail

Reliable and with outstanding prioritisation and time management abilities

Proactive and ability to work towards tight deadlines

Confident, highly approachable and a team player who isn't afraid to ask questions

A smile is your default with a very positive, 'can-do' attitude

Solid understanding of a customer-centric industry and it would be absolutely ideal for people who have already worked in and enjoy lifestyle brands
---
Dog-Loving After Sales Support - Travel Team (Office Based or Home Working)
Hours: Monday-Friday (37.5hrs a week)
Location: Shoreditch, London, EC2A OR Your Home! (Dependent on experience)
Reporting to: Head of Operations
Salary: £20k
Responsibilities:
Provide customer support as an integrated part of the travel team across email, telephone, livechat and social media for a variety of queries including amendments/cancellations/queries/complaints etc.

Liaise with property partners on a regular basis ensuring that all upcoming bookings are confirmed.

Work closely with the finance department to ensure customer balance payments are settled.

Work closely with the Properties department to ensure that our property standards are closely monitored as per customer reviews, complaints and feedback.

Provide ad-hoc support to the Travel Team in busy periods in the ways of Research, Property Availability Checks.
Experience and skills required:
Minimum of 1 year in a Customer Support role, ideally within hospitality or travel.

Ideally familiar with ZenDesk, GSuite, Bazaarvoice.

Flawless interpersonal skills.

Exceptional written and spoken English.

Competent basic maths skills.

Have a meticulous eye for detail.

Ability to multitask efficiently and effectively with outstanding organisation skills.

Comfortable and confident working in a fast-paced, sales and customer led environment.

Passionate about customer service.

Complete understanding of what a dog-friendly getaway truly means to our customers.
Please note if applying for the home-based role you MUST have:
Minimum of 1 year working in a similar role remotely.

Have your own fully equipped home office with computer and reliable broadband connection.
---
Dog-Loving Travel Sales Executive (Office Based, Home Working & Part-time Weekend Roles Available!)
We're always on the lookout for charismatic and enthusiastic Travel Sales Executives. If you're experienced within the Travel Industry with a minimum of 2 years remote Travel Sales experience then you could be a paw-fect fit for our Homeworking Travel Sales positions. All you need is a broadband connection, mobile and a computer!
Hours: 12:30-21:00, Monday-Friday (37.5hrs a week)
Location: Your home!
Reporting to: Home Team Travel Sales Manager
Salary: £20k base salary + uncapped commission (O.T.E. £27k - £32k!)
If you are an experienced sales person looking for a part-time role then our Weekend Travel Sales position could be just the thing for you to have a rewarding, customer focused sales role but on a part-time basis, and the best part is you will be home based! All you need is a broadband connection, mobile and a computer! Due to the fast-paced nature of this position we feel it would work best either as your sole role or alongside another part-time position. If you are looking to do this role alongside a full-time position your application will not be considered.
Hours: 11:30-20:00, Saturday & Sunday (15hrs a week)
Location: Your Home!
Reporting to: Weekend Travel Sales Manager
Salary: £10.25 per hour + uncapped commission (O.T.E. £12-£15 per hour)
No experience? No worries! IF you have an interest in the travel industry, love dogs and think you could thrive in a Telephone Sales environment then you could join our energized Travel Sales Team based in our Shoreditch Headoffice. You'll receieve on the job training and be taught how to sell like a pro!
Hours: Monday-Friday, rota'd between 9:00-19:00 (37.5hrs a week)
Location: Shoreditch, London
Reporting to: Weekend Travel Sales Manager
Salary: £20k base salary + uncapped commission (O.T.E. £27k - £32k!)
Role & Responsibilities:
You will be working in a fast paced and challenging role liaising between clients and our venues, via

email, telephone and livechat, to book every aspect of their tailor made break.

Managing a high volume of inbound sales enquiries and using effective closing techniques to convert

enquiries into a sales.

To follow up the lead lifecycle with customers, venues and other third parties to close sales and

take payment.

Use initiative to up-sell and cross-sell other products to the customer.

Maintaining a high level of product knowledge at all times.

Consistently working to achieve individual and team targets / KPI's.

Using effective communication to recognize customer needs.

Regular use of the PetsPyjamas website for research on a daily basisto provide alternatives and

switch selling.

Building and maintaining B2C and B2B relationships.

Sharing knowledge, findings, patterns and hotel info with the wider sales team.

Emailing customers accurate quotations, including payment links.

Communicating with other remote workers via Slack.

Ensure constant communication with wider sales team, including a daily handover.
Skills, Experience & Your Personal Characteristics:
Understanding of what a pet means to their owner.

Experience of processing multiple telephone calls on a daily basis.

Knowledgeable of UK geography.

Comfortable with working in a fast paced environment and confident when working under tight time constraints.

Natural confidence that will help you become a star seller who is comfortable with upselling!

KPI/Target driven and customer focused.

Sales savvy with persistence to look out for sales opportunities via the Live Chat platform with the ability to turn browsers into bookers.

Excellent communicator, both written and verbal, with tons of flair and persistence.

Well-organised, self-motivated and able to work at a consistently high level.

A smile is your default with a very positive, 'keen and can-do' attitude.
---