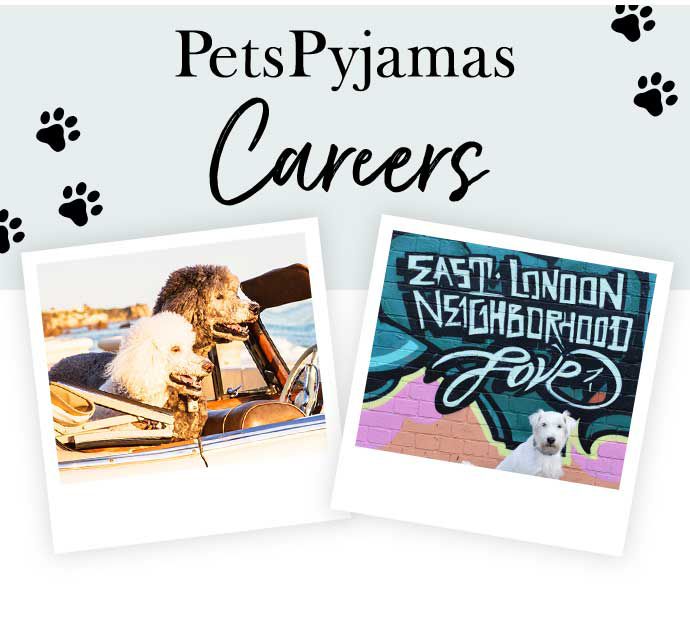 ---

Top-Notch Travel Professionals Wanted! (Must Love Dogs!)
To join our

PetsPyjamas Pet Partner Network
30+ Hours Per Week
Do you want to:
Run your own travel business without the risk of starting up on your own?
Offer a fantastic service to 9.9 million potential customers with a mutual interest - who really want your product?
If the answer is yes, then this is for you!
About PetsPyjamas
Founded in 2012 by avid dog lovers, PetsPyjamas Travel has grown rapidly to become the number 1 for dog-friendly travel, working with over 6,000 hotels and cottages where dogs really are as welcome as their owners.
Building on our considerable success and reputation, we are now on the lookout for top-notch travel professionals around the country to join our remote working pet partner network, to enable even more four-legged friends and their human companions to make wonderful memories taking trips together at our extensive range of hotels, cottages and b&b property partners.

About the Pet Partner Network & what we deliver to you….
This is almost like starting your own, commission-based business without the risk, backed by the country's No 1 dog-friendly travel business where you'll benefit from the support of a professional and approachable team with years of experience in the dog-friendly travel business.

What we deliver…
Strong and convertible enquiries generated from our engaged pet-loving customers who want to go away with their dog
Uncapped earnings - instant commission
Full marketing support and admin/customer support handled by us
Flexibility in hours and respect for being self-employed
Key benefits to you include…..
Generous Commission, bonuses and incentives with uncapped earnings
Instant commission - start earning immediately!
Choose your hours (although a minimum of 30 per week gets best results)
Work from Home
Full marketing support both nationally & locally
Great leads pipeline from both new and existing customers
All admin and customer support handled by head office
Full training on how to sell dog-friendly trips
NO JOIN UP OR MONTHLY FEES UNTIL JANUARY 2021!
Who we are looking for...
A dog lover with 3 years of travel sales experience
An excellent track record selling travel
Dedicated, self-motivated and used to working at home
Ability to deliver a high-quality customer sales service that keeps customers coming back
Make no mistake, the biggest rewards come to those who work hard - this might be the dream role but our Partners are highly driven professionals who thrive on having their destiny in their own hands.
Sound like the perfect role for you?

With an increase in traffic in the last few weeks and our main focus on domestic travel, this is an ideal time to join a growing and successful organisation that has built a great reputation as the number one for dog-friendly travel. Send us your CV and a short introduction as to why you feel you would be perfect for our Pet Partner Network to:
petpartner [at] petspyjamas [dot] com
---
Love Dogs & Building Customer Relationships?
This could be your dream role!!!
What?: Customer Relationship Lead
Who?: PetsPyjamas.com No 1 for Dog-friendly Travel
Where?: Two days at our Old St Warehouse Offices (bring your dog if you have one!) & three days remote
Reporting to: Head of Marketing, PR and Communications
Salary: DOE

Launched in 2012 PetsPyjamas is the number one for dog-friendly travel. The business is growing rapidly on the strength of there being over 10 million dogs in the UK and a huge boom in staycationing for obvious reasons.
We are on the lookout for a commercially driven individual with around 3 years experience in a similar role, who is looking for their next career move preferably from a strong consumer brand, where the customer is truly at the heart of everything. Travel and/or start-up experience would be ideal but we're open to any talented individuals.
Reporting into the marketing team, you will be a real team player, who is used to being very hands-on, who likes to use their initiative and take ownership, accustomed to meeting tight deadlines and always, always going the extra mile for our customers.
We are looking for an experienced Customer Relationship Lead to join our marketing team to be responsible for engaging with and nurturing our customers by building and preserving trusting relationships and looking after our brand reputation overall. A true customer champion, you will resolve any issues that arise to ensure our customers are delighted with us.
Led by our Head of Marketing, the Customer Relationship Lead will constantly help to identify opportunities to grow our customer base and build positive relationships with new customers. You should have a strategic and analytical mind, helping to find solutions to problems to ensure the PetsPyjamas brand is at the front of our customers' minds, for the right reasons.
To be successful as a Customer Relationship Lead, you will have excellent communication skills and maintain the core values of our brand. You will respond to reviews across platforms with lightning speed response time and conduct quality assurance surveys to determine customer satisfaction and use the findings to improve on areas of complaint. Ultimately, an outstanding Customer Relationship Lead will work closely with all departments to ensure that all staff preserve relationships and adhere to brand guidelines as set out by our Marketing team with our customers.
Key Tasks and Responsibilities Include:
Reporting on KPIs daily/weekly/monthly to feed into the overall Marketing function KPIs.
Respond to reviews across various platforms in a timely manner.
Building and maintaining trusting relationships with our customers.
Overseeing the relationship with customers handled by our team.
Resolving customer complaints quickly and efficiently.
Plan operationally by meeting with managers and acting on customer feedback.
Expanding the customer base by ensuring customers are satisfied with our service.
Understanding key customer needs and proactively addressing these.
Conducting business reviews using CRM programs.
Knowing our competition and researching accordingly.
Aiding Marketing to strategise and owning the brand reputation cross-platform.
Representing the company at every opportunity and customer touchpoint.
You will be:
A real brand person who understands how to maintain the 'look and feel and tone of voice'
Able to manage a small team as well as external agencies
A complete self-starter who is multiskilled and loves multitasking
A minimum of 3 years' experience in a similar role.
Tenacious, energetic, friendly, enthusiastic, hard-working and committed, with an (almost!) obsessive attention to detail and a 'can do' attitude - solutions more than problems driven!
Excellent interpersonal and communication skills.
Proficient in customer management and ticketing systems.
Superior travel knowledge.
A team player with leadership skills.
Solutions driven, you'll maintain a positive attitude focused on customer satisfaction at all times.
The future?
This is a fantastic opportunity for an ambitious person to join a company really going places and punching above its weight, who can make an important contribution in the short term and step up in the longer term.
If you think you've got what it takes send a short email saying why you think you'd be great for this role together with your CV to hiring [at] petspyjamas [dot] com