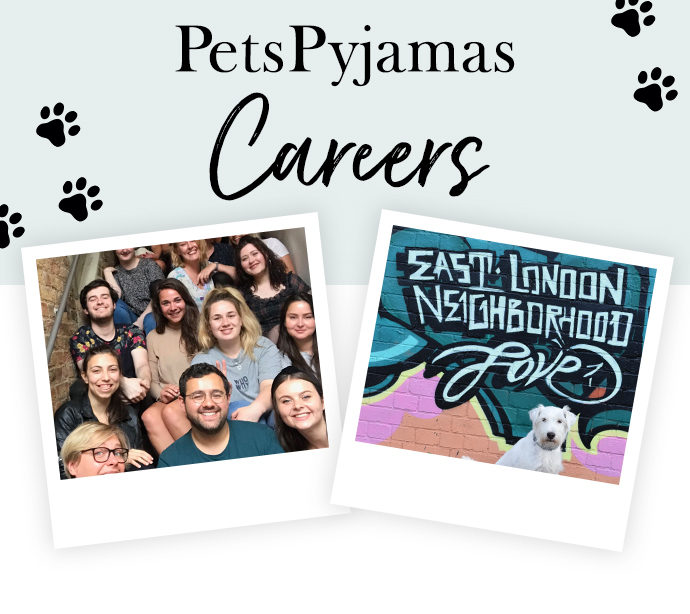 Are you tenacious, independent, self-starting, ambitious, driven and energetic? We could have a future together!
PetsPyjamas are the leaders of dog-friendly travel throughout the UK & Europe. Our expert concierge team provide a unique and personalised experience to our ever growing avid dog-loving travellers. Launched in 2012 by the founders of toptable.com, we are playing a key role in the exploding trend around pets as true family members and are focused on making the Travel Industry truly Pet Welcoming.
PetsPyjamas HQ is a converted warehouse in the heart of Old Street, housing a vibrant and entrepreneurial team dedicated to driving the brand forward. With a growing workforce of 35+ we are at a pivotal break through moment for the business, with huge expansion and growth plans for 2020 and beyond.
Being part of the PetsPyjamas pack offers the opportunity for enriched personal development, rapid career progression and all whilst working in exciting, engaged and energetic environment in our Shoreditch based dog-friendly offices.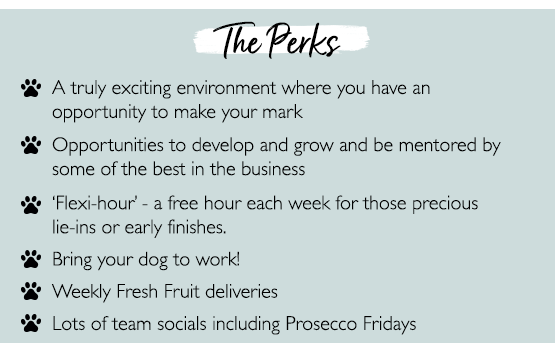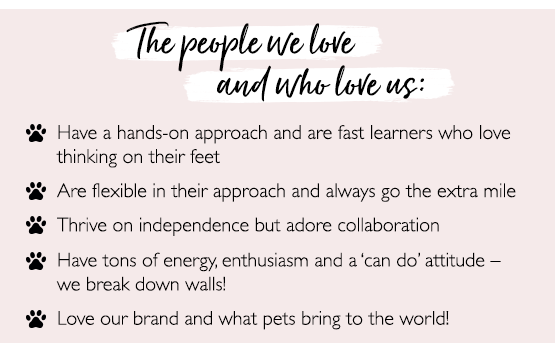 If you are the paw-fect fit for our team then send across your CV alongside 250 - 500 words on how you think you could be an asset to our team to hiring@petspyjamas.com
Please note that due to the high level of interest we receive we are unable to individually reply to all applicants.
---

Top-Notch Travel Professionals Wanted! (Must Love Dogs!)
To join our

PetsPyjamas Pet Partner Network
Both Full-Time Hours & Weekends Only Available
Do you want to:
Run your own travel business without the risk of starting up on your own?
Offer a fantastic service to 9.9 million potential customers with a mutual interest - who really want your product?
If the answer is yes, then this is for you!
About PetsPyjamas
Founded in 2012 by avid dog lovers, PetsPyjamas Travel has grown rapidly to become the number 1 for dog-friendly travel, working with over 6,000 hotels and cottages where dogs really are as welcome as their owners.
Building on our considerable success and reputation, we are now on the lookout for top-notch travel professionals around the country to join our remote working pet partner network, to enable even more four-legged friends and their human companions to make wonderful memories taking trips together at our extensive range of hotels, cottages and b&b property partners.

About the Pet Partner Network & what we deliver to you….
This is almost like starting your own, commission-based business without the risk, backed by the country's No 1 dog-friendly travel business where you'll benefit from the support of a professional and approachable team with years of experience in the dog-friendly travel business.

What we deliver…
Strong and convertible enquiries generated from our engaged pet-loving customers who want to go away with their dog
Uncapped earnings - instant commission
Full marketing support and admin/customer support handled by us
Flexibility in hours and respect for being self-employed
Key benefits to you include…..
Generous Commission, bonuses and incentives with uncapped earnings
Instant commission - start earning immediately!
Choose your hours (although a minimum of 30 per week gets best results)
Work from Home
Full marketing support both nationally & locally
Great leads pipeline from both new and existing customers
All admin and customer support handled by head office
Full training on how to sell dog-friendly trips
NO JOIN UP OR MONTHLY FEES UNTIL JANUARY 2021!
Who we are looking for...
A dog lover with 3 years of travel sales experience
An excellent track record selling travel
Dedicated, self-motivated and used to working at home
Ability to deliver a high-quality customer sales service that keeps customers coming back
Make no mistake, the biggest rewards come to those who work hard - this might be the dream role but our Partners are highly driven professionals who thrive on having their destiny in their own hands.
Sound like the perfect role for you?

With an increase in traffic in the last few weeks and our main focus on domestic travel, this is an ideal time to join a growing and successful organisation that has built a great reputation as the number one for dog-friendly travel. Send us your CV and a short introduction as to why you feel you would be perfect for our Pet Partner Network to:
petpartner [at] thepetspyjamas [dot] com