If you love the outdoors then Worcestershire makes a great dog-friendly escape. Situated on the edge of the Cotswolds, surrounded by the Malvern Hills and with miles of woodland trails for you and your dog to explore, it's the perfect place for a pet-friendly adventure. 

Not only that, but Worcestershire is also home to so many gorgeous villages and market towns. Visit the Jewel of the Cotswolds Broadway and climb up to Broadway Tower to one of England's highest viewpoints, walk part of the 102 mile Cotswolds way which begins in Broadway or trek along the ridge of the Malvern Hills – the opportunities are endless.
Peaceful countryside, rolling hills and breathtaking views await you. So check out our collection of dog-friendly luxury hotels with spas, quaint cottages and tree houses some with exclusive doggie offers. And remember, with PetsPyjamas, dogs always stay free!
One of our favourite luxury hotels – Lygon Arms occupies centre stage in the impossibly beautiful Cotswolds village of Broadway. Not only is the hotel super luxurious with a fabulous spa and pool but it is also incredibly dog-friendly!
The hotel itself is a traditional coaching inn so is steeped in history but with every comfort. There are three acres of grounds for your dog to play in, plus fabulous walks including a trip up to the Broadway Tower. You can dine with your dog plus the chance for your furry friend to indulge in a luxurious nails and tails spa treatment!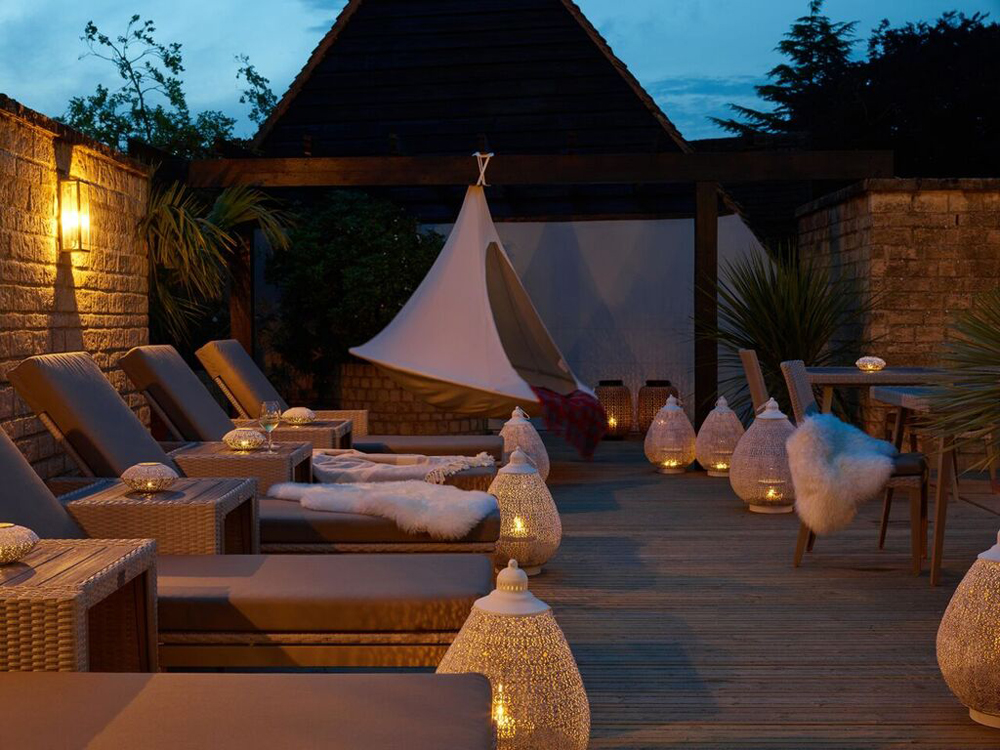 A charming English dog-friendly country house hotel ln a peaceful rural village on the sunny western side of the breathtaking Malvern Hills. Colwall Park prides itself on its dog-friendly bar where you can enjoy both breakfast and dinner with your furry friend. There's a beautiful garden for your dog to roam and the local area is a sanctuary for dog walkers, with footpaths leading directly onto the Malvern hills from the hotel grounds. Super dog-welcoming this hotel goes above and beyond to make your dog feel at home.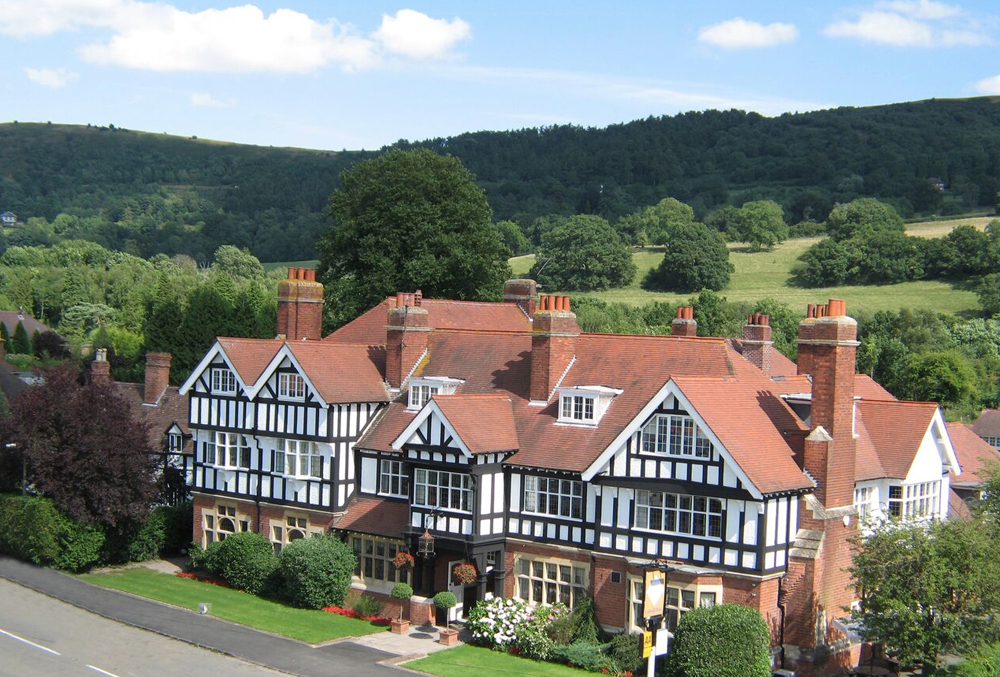 Karma Salford Hall is a beautiful dog-friendly 15th-century country retreat, right in the heart of the Cotswolds Nestled amid farms, fields and ancient villages in the Vale of Evesham, Karma Salford Hall once belonged to King Henry VIII and retains its Tudor charm whilst offering contemporary comforts. Picturesque on both the inside and out, there are 32 charming bedrooms, a traditional bar and restaurant, plus a beautiful garden for your dog to play. Stratford on Avon is close by as is the dog-friendly Evesham Country Park.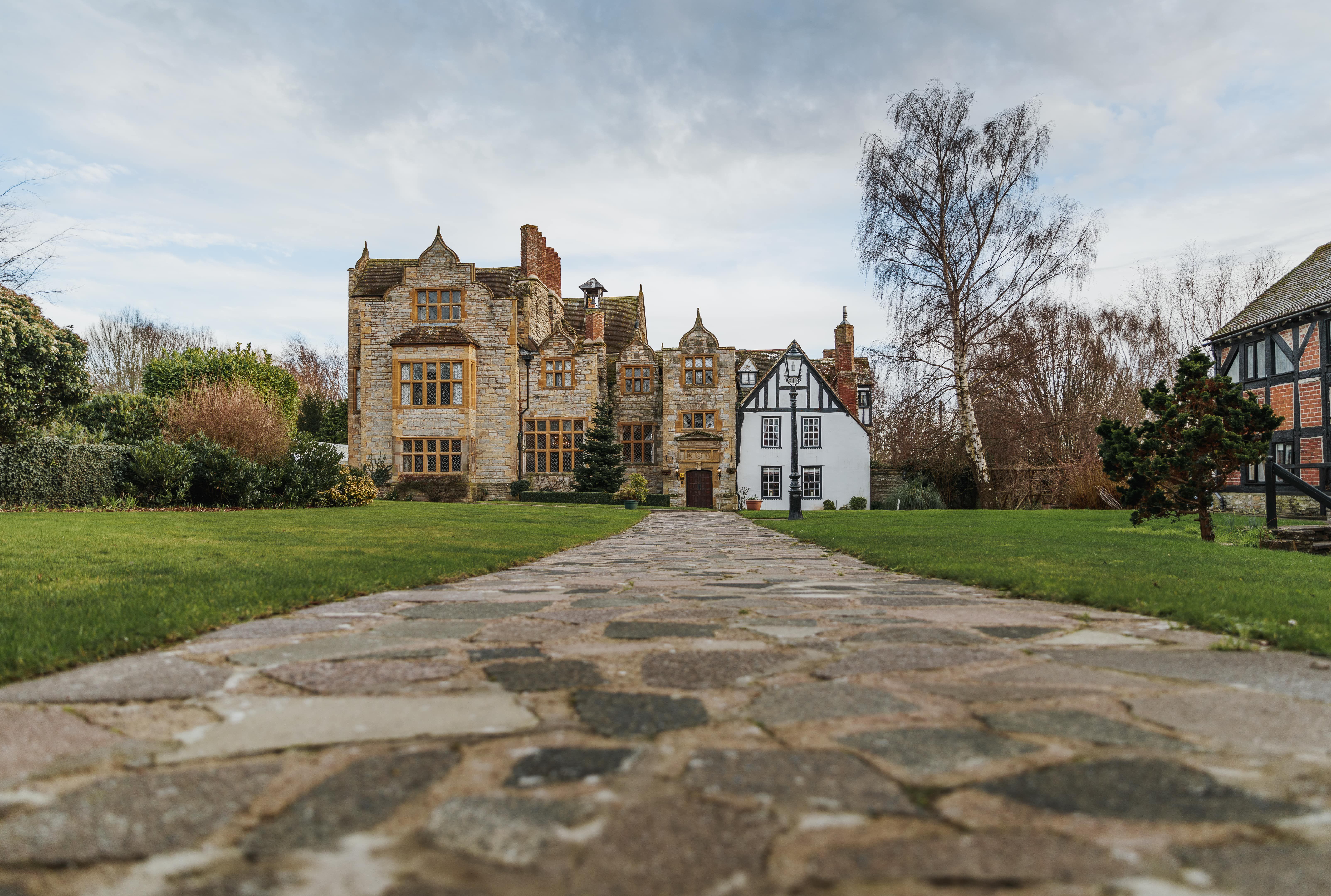 Dog-friendly The Elms in Worcestershire is an elegant Queen Anne mansion – a luxury retreat perfect for families and pets. The hotel is set within 10 acres of grounds for your dog to play bordered by open countryside. Witley Court and Gardens with its fabulous woodland walks and Wire Forest are close by plus a myriad of other walking adventures for you and your pet. 
There is also a fabulous spa, an indoor pool and tennis courts to take full advantage of during your stay plus super dog-friendly rooms, many on the ground floor for easy access, and a great dog-friendly ethos!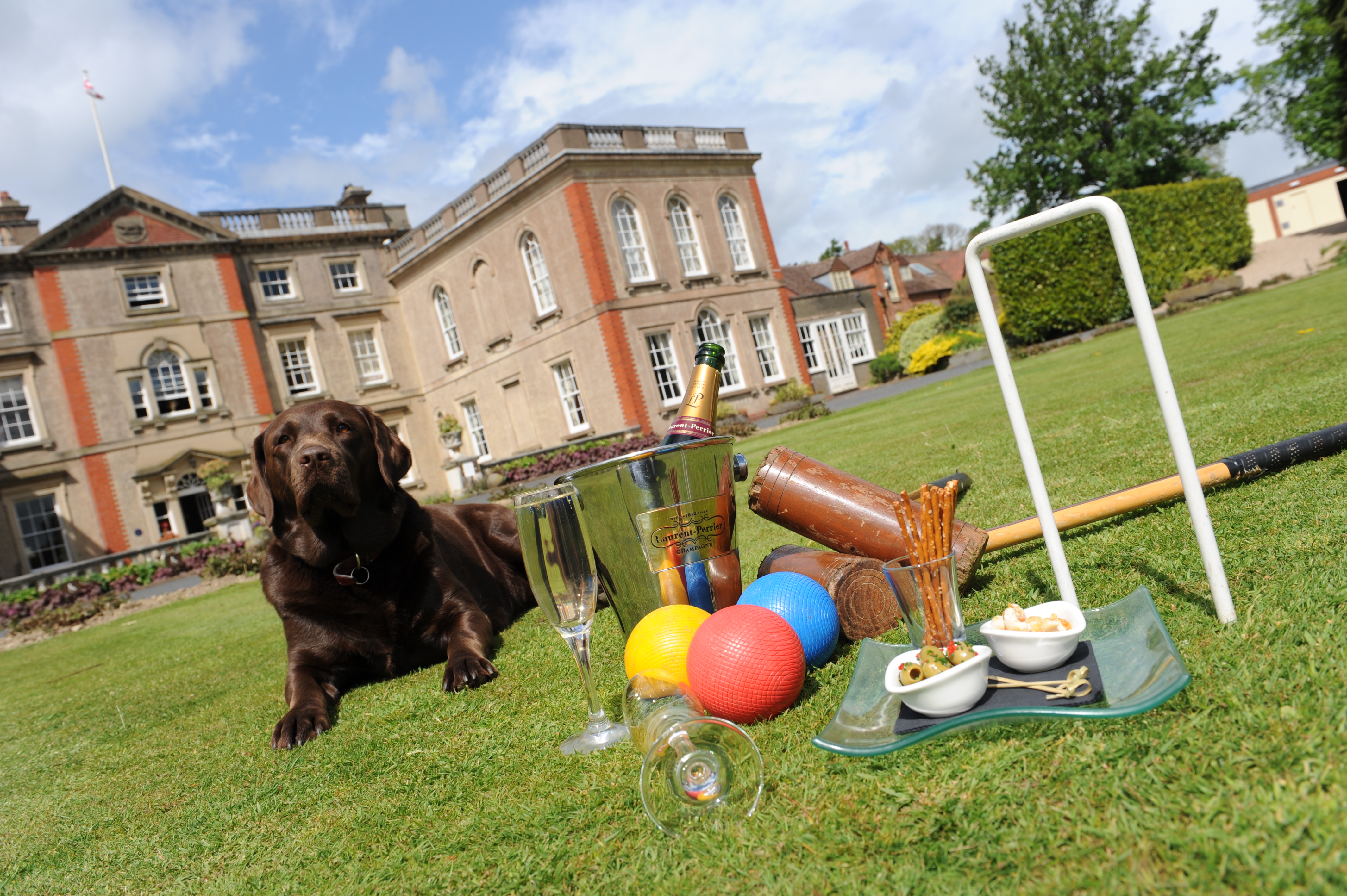 Dog-friendly The Fish Hotel in Worcestershire is the ultimate pet-welcoming destination, with a rural hillside setting but within reach of the Cotswold village of Broadway. This back-to-nature bolthole offers both style and comfort for pets and their owners nestled within the 400-acre Farncombe Estate, The Fish is a collection of quirky hotel houses and huts that are affordable but super stylish – you can stay in a courtyard room or even a treehouse!
Your dog will love it here surrounded by forests and fields. There are super walks and dog-friendly pubs close by and there's even a doggie agility course for extra special doggie fun!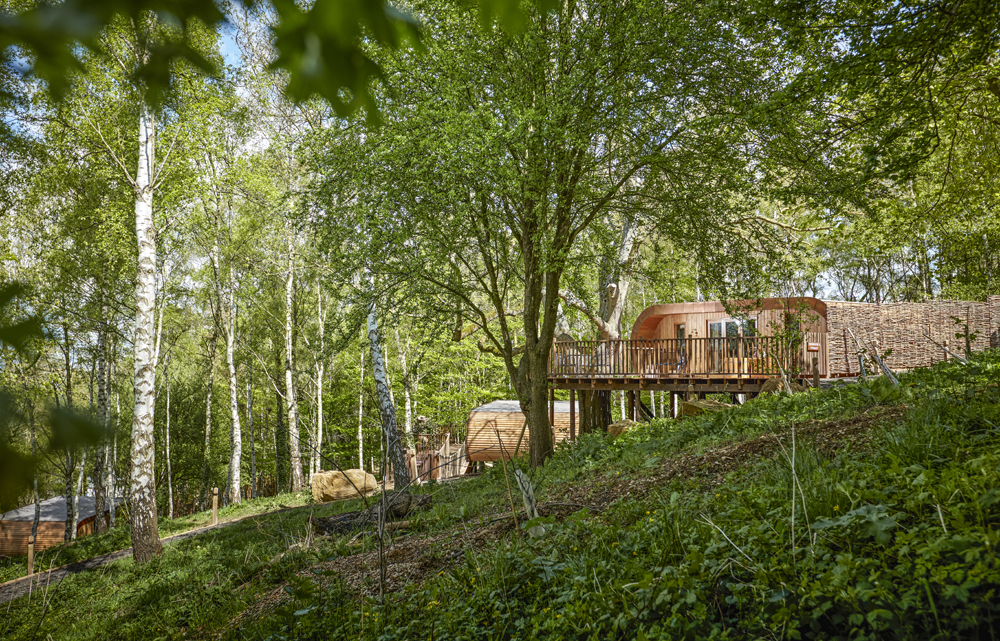 Set in pretty, landscaped gardens next to Malvern Priory and with spectacular views over the Vale of Evesham, The Abbey Hotel enjoys one of the most perfect settings in the country. A designated Area of Outstanding Natural Beauty, the Malvern Hills stretches across Worcestershire, Herefordshire and Gloucestershire, offering magnificent hiking trails for you and your best furry friend to explore during your stay.
The hotel itself is a tranquil haven in which to relax and retreat and supplies maps of all the great walks in the area including Eastnor Castle and its fabulous deer park.





Full of character and charm, we love this 15th-century timbered dog-friendly hotel in Broadway. Exposed beams and beautiful stonework highlight the history of the building, and there is a beautiful collection of animal-themed artwork. Surrounded by tumbling hills, grassy meadows and lots of doggie walks, this country-style hotel makes the perfect Cotswolds escape. 
Choose one of their dog-friendly rooms or the charming Bumble Bee Cottage close. The iconic Broadway Tower is close by as well as Hidcote and Kiftsgate gardens. Explore the other gorgeous Cotswolds villages nearby and at the end of the day sink into a cosy armchair by the log fire and relax with your four-legged friend.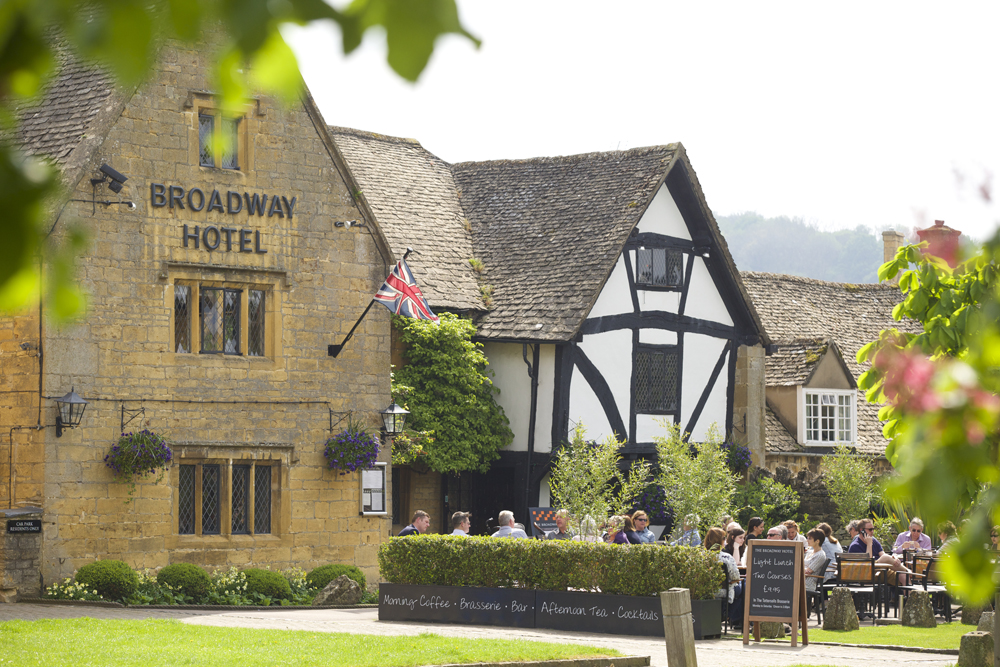 Overlooking a delightful small lake within three acres of shared gardens dog-friendly Mulberry Cottage makes a great base for visiting Cheltenham and exploring towns and villages of the northern Cotswolds. There's a pretty, comfortable living room with a wood-burning stove and charming decor throughout. Although the cottage is within the grounds of the owner's home, this charming open-plan cottage is completely self-contained and has its own private sheltered sitting-out area overlooking the lake. Fabulous walks on the doorstep, dog-friendly pubs and tennis courts are available in the village just half a mile away.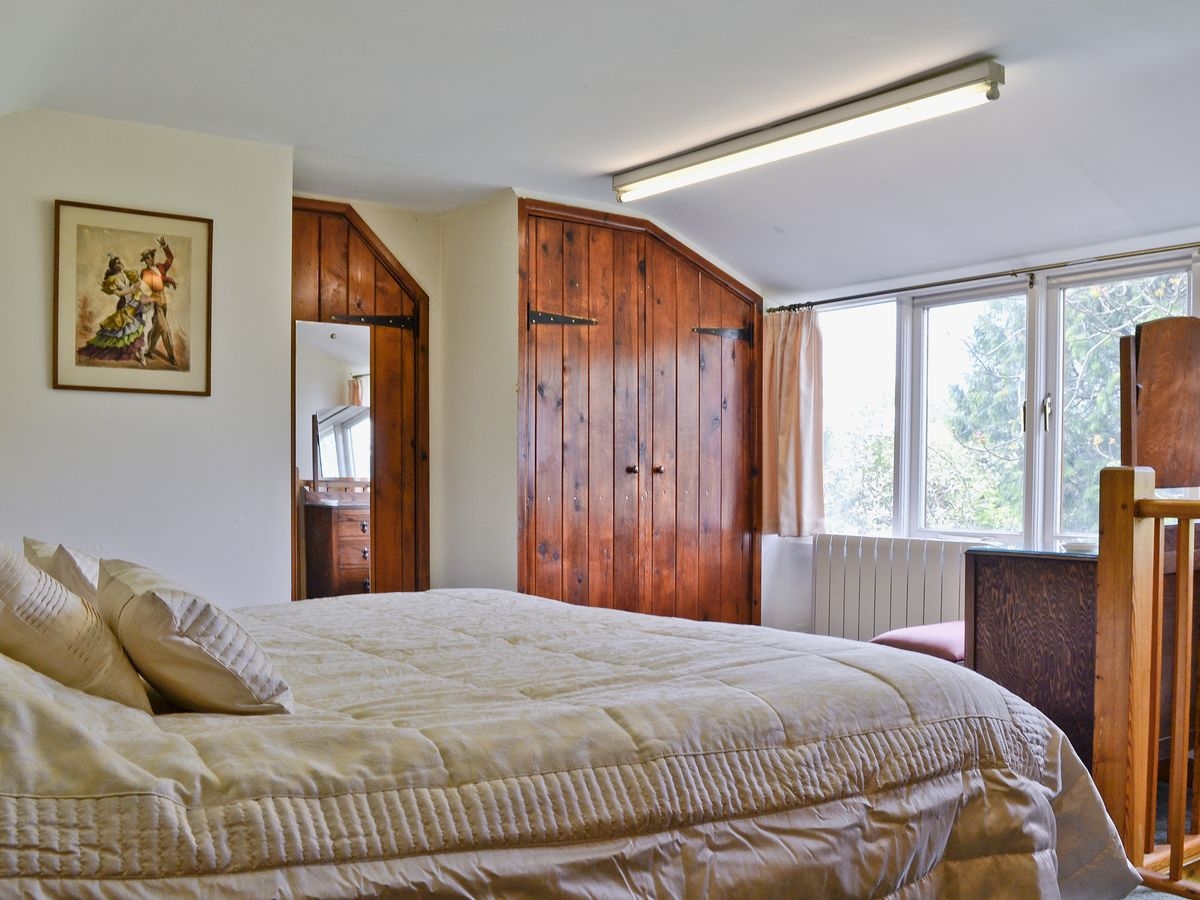 Middle Farm Cottage
A south-west facing, detached dog-friendly cottage, in the Vale of Evesham is perfect for exploring the Cotswolds, Stratford-upon-Avon and Broadway . The delightful living/dining room/kitchen opens out onto a secluded patio and garden. On the first floor, there is a light and airy studio-style bedroom with an en-suite. The cottage is situated in a small village with a dog-friendly pub within walking distance and several footpaths in the immediate area. It is a short drive away from many attractions including Broadway and Stratford on Avon.
Located in the picturesque village of Chaddesley Corbett, dog-friendly Brockencote Hall is an award-winning hotel housed in a refurbished Victorian manor house. Set in 70 acres of parkland, complete with a scenic lake it's the perfect place for you and your four-legged friends to enjoy a stroll around the grounds and the perfect base for exploring the stunning Worcestershire countryside.
You can dine with your dog in the bar where doggie beer and pawsecco are available.  And as well as the wonderful doggie welcome your pet can expect a comfy bed, bowls, treats, toys, dog in room sign, welcome letter and doggy compendium in the room.